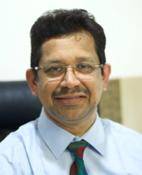 Dear Colleagues,
As we enter the formation of GIBS, welcoming you all to the dynamic website that brings evidence and experience to the next level. It packages the needs of a modern day clinician, thus making this subject active and vibrant . The focus has been to enrich and strengthen the existing working principles and take the plunge to innovative steps in the Bladder Pain Syndrome towards making this a happening subject for each clinician practicing the same while every agonized patient gets his due finally by the heightened awareness and the results of newer modalities. GIBS endeavors universal reach in times to come.
In keeping with the spirit of making it interactive and unique experience for all of us @GIBS, we aim at the defining moment of welcoming each of you to the unique annual live platform of interaction in the scheduled meet and continued build up with your clinical experience and feedbacks.
It's time to click! Enter the website ! Leave your inputs and results and be a part of the defining movement on the subject and be able to shoulder revolution with global leaders who make it so simplified and finally happening … for all of us.
"In IC-BPS ! A wise clinician and team will make huge difference to the patient , GIBS dreams of leaders like you."