GLOBAL Round Table Interaction on IC/BPS
Date: 20th May 2021
TIME: 07:00AM – 08:30AM EST || 04:30PM – 06:00PM IST || 11:00AM – 12:30PM GMT
Theme: "The Great Bladder Challenge"
We feel immense pleasure to share that GIBS has successfully completed its First Global Round Table meeting with stalwarts from different parts of the world to share the state of care of this disease in their respective countries. The presence of eminent International Subject experts from 13 countries made the hue of faculty truly " Global".
A big "Thanks" to all the esteemed faculty to make it a historic global Bonanza with your outstanding presentations and deliberations.
The Global Round table witnessed the involvement of 450 delegates across the globe. 340 connected with us live on Zoom and 100 were watching us on Facebook.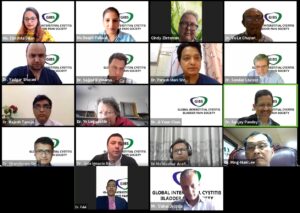 Become a lifetime member to view all the recorded webinars.
Click here to Become a Lifetime Member of GIBS